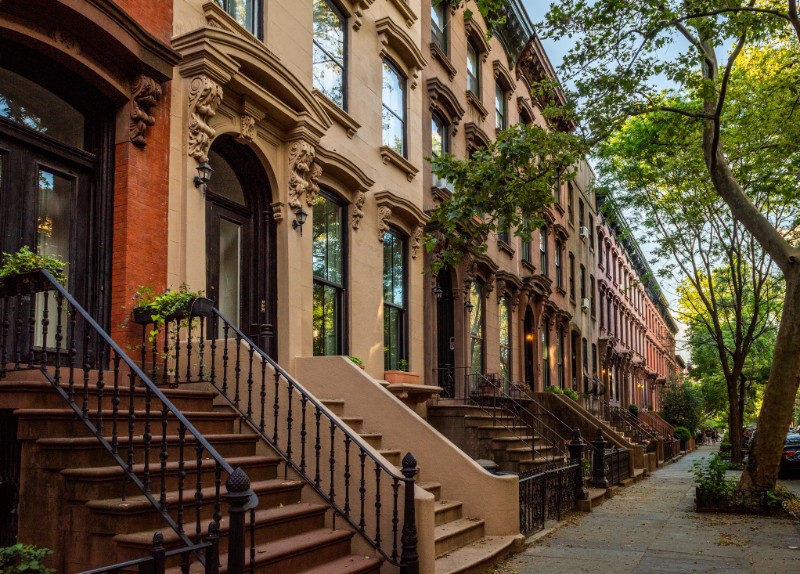 Known for tree-lined cobblestone streets, brownstones, and pre-war apartment buildings with red brick facades, Clinton Hill is a laid-back residential area for those who want to get away from the hustle and bustle of New York City. Despite its relaxed environment, the neighborhood provides access to big-city attractions like the Brooklyn Pop-Up Market, Pratt Institute, and BRIC House. Residents can also visit nearby Fort Greene and Prospect parks for recreation. Main thoroughfares like Vanderbilt Avenue are lined with cafes, restaurants, boutiques, and grocery stores.
Clinton Hill spans roughly 0.6 square miles in north-central Brooklyn. It is bounded by Flushing Avenue to the north, Classon Avenue to the east, Atlantic Avenue to the south, and Vanderbilt Avenue to the west. It is located within proximity of Downtown Brooklyn and Wall Street, making it ideal for professionals, entrepreneurs, artists, and everyone in between. Though known for having a college town atmosphere, Clinton Hill attracts buyers from all walks of life.
The neighborhood is sought after for its Gothic Revival and Italianate-style brownstones as well as its modern condos and duplexes. Its architectural heritage can be seen throughout Clinton Hill Historic District, where buyers will find primarily residential buildings built between the 1840s and the 1930s. The district is listed on the National Register of Historic Places.
Clinton Hill was founded in the late 19th century by oil magnate Charles Pratt. It was named as such for its elevation. The neighborhood was known for its stunning 1920s buildings and mansions in the 1920s, which were designed by the celebrated architect Montrose Morris. Many of these older buildings still stand today, giving the neighborhood a grand yet still understated feel. Today, Clinton Hill is best known as an up-and-coming neighborhood that offers a quiet retreat from Manhattan and the other busier areas of NYC.
{{
Sorry we are experiencing system issues. Please try again.
}}
[aios_ihf_template_results_page]
Sorry we are experiencing system issues. Please try again.
[/aios_ihf_template_results_page]