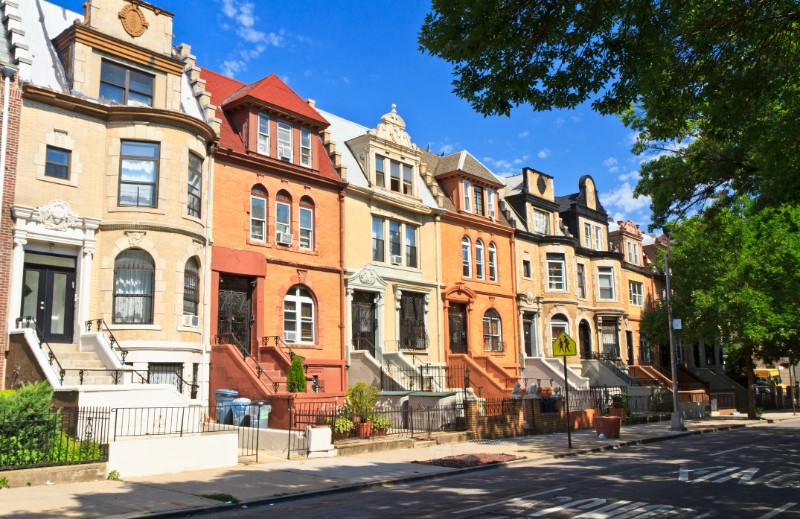 Located central Brooklyn, right next to Prospect Park, this idyllic neighborhood has a rich heritage that attracts new residents each year. It is divided into two sections, namely Crown Heights North and Crown Heights South, with over 142,000 residents as of the 2010 census.
It is bounded by New York Avenue and Brooklyn Botanic Garden from east to west east, and by Atlantic Avenue to Empire Boulevard from north to south. Nearby are the neighborhoods of Bedford-Stuyvesant, Stuyvesant Heights, Prospect Heights, and Prospect Lefferts Gardens. Eastern Parkway bisects the neighborhood.
Historically one of the wealthiest areas in New York City, Crown Heights is aptly named. It features grand architecture from a bygone era, with remarkably preserved brownstones, row houses, and mansions. The Crown Heights North Historic District showcases some of the finest structures in the neighborhoods with Art Deco, Italianate, Romanesque Revival, Tudor Revival, and Mediterranean design elements. It is a national historic district that harbors the enduring work of famed architects like Montrose Morris, Henry Ives Cobb, George C. Chapell, J.C. Cady, and Russell Sturgis.
Aside from historic row houses and brownstones, buyers can also choose from an excellent mix of modern and contemporary condos and apartments. Those who want to test the waters can explore co-living buildings. Developers have invested in the area with new construction and the renovation of older apartment buildings while preserving Crown Heights' unique character.
Residents have easy access to NYC attractions like the Brooklyn Museum, Brooklyn Children's Museum, and Brooklyn Botanic Garden. Other highlights include Weeksville Heritage Center, Prospect Park, Prospect Park Zoo, and Grand Army Plaza. The neighborhood holds annual events like the West Indian American Day Parade and holiday celebrations.
Crown Heights residents have access to efficient public transport. Several subway lines serve the neighborhood, including the 2, 3, 4, and 5 trains. The Franklin Avenue shuttle and several bus lines also run through the neighborhood.
{{
Sorry we are experiencing system issues. Please try again.
}}
[aios_ihf_template_results_page]
Sorry we are experiencing system issues. Please try again.
[/aios_ihf_template_results_page]