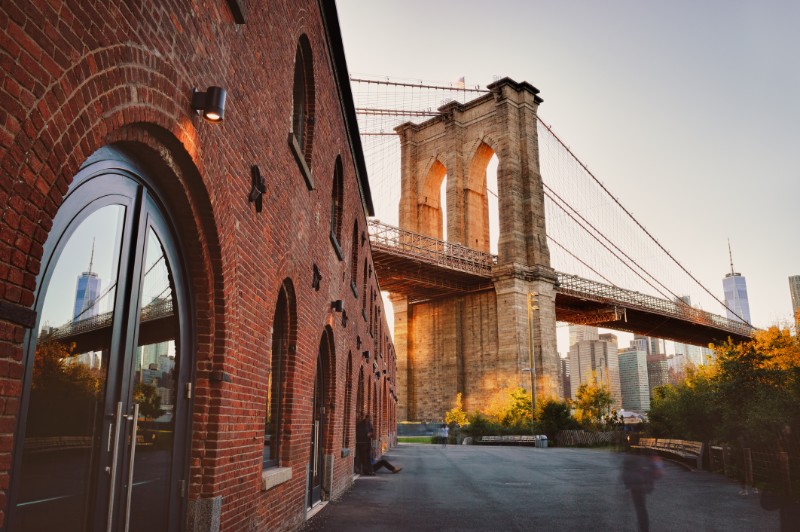 Short for Down Under the Manhattan Bridge Overpass, Dumbo is an iconic New York City neighborhood with galleries, bookshops, confectionaries, and co-working spaces. Located in northeast Brooklyn, just north of Brooklyn Heights and across the river from Lower Manhattan, the neighborhood spans roughly .050 square miles.
The neighborhood's boundaries are often debated but most New Yorkers agree that Dumbo encompasses the area between the Brooklyn Bridge and Manhattan Bridge, and extends east to Vinegar Hill.
Its reputation for the arts more than makes up for its small size. It is one of the most celebrated arts districts in NYC with art exhibits and performances for everyone to enjoy. It also has more than its fair share of cafes, eateries, and shops.
Local attractions include The Archway, Brooklyn Flea, Time Out Market Food Hall and Brooklyn Historical Society. Other landmarks include Gleason's Gym, a famed boxing gym, and The Cliffs, the largest outdoor climbing gym in North America. But Dumbo's crowning jewel has got to be Brooklyn Bridge Park, which stretches for 1.3 miles along the East River and offers sweeping views of Lower Manhattan.
The housing market offers an excellent selection of modern condos with hundreds to thousands of square feet of living space. The most coveted condo units have views of the East River and the Manhattan skyline. These condos typically have oversized windows and balconies.
Dumbo was a ferry landing with warehouses and industrial buildings. Artists came to the area in the 1970s in search of affordable apartments and studio space, naming the neighborhood Dumbo in 1978. Developer David Walentas drove the neighborhood's transformation into an upscale area towards the end of the 20th century.
Dumbo has come a long way from its origins as a manufacturing hub. It is considered the center of the Brooklyn Tech Triangle with a high concentration of tech companies in the area.
{{
Sorry we are experiencing system issues. Please try again.
}}